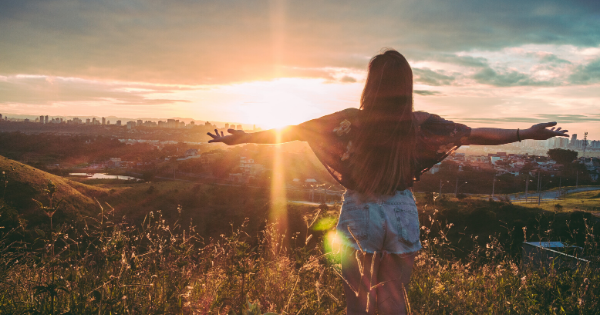 Breast cancer - a story of love, loss and transformation.
12 March 2020
My story is one of love, loss and transformation. It began four years ago with my husband's suicide.

I responded to his death the only way I knew how: I was stoic and resilient. After taking a couple of months off work, I went back to my executive role. I went back to competitive running. I saw a counsellor each Wednesday to "schedule" my grief, but otherwise soldiered on with life and thought I was coping really well.
Two and a half years later, in November 2018, I found a lump in my left breast. On the Monday before Melbourne Cup I had a mammogram. My GP called me within two hours and asked me to come in immediately. She advised me to bring someone with me to the appointment. I went alone. I needed to know what I was dealing with before I could burden my family and friends. Within two hours of meeting my GP, I was meeting with Chantel Thornton, a breast cancer surgeon. The speed at which decisions had to be made was overwhelming! Chantel did an excellent job preparing me for my diagnosis over the three days of tests but it was mostly a blur. By the Friday, I was diagnosed with triple negative breast cancer (a rare and aggressive type of breast cancer). The following Thursday I was in surgery.
The reality of treatment
Following the surgery, it had been explained to me that the recommended medical treatment would include two types of chemotherapy and radiation. It wasn't until I met with an oncologist a week later that I started to understand what that actually meant for my quality of life.
As a 40 year old, with hopefully half my life ahead of me, I was concerned about the long term side effects of chemotherapy and radiation. As someone who enjoys an active, healthy life, the potential of lung or heart damage in 20 years time was significant. I fixated on the statistics, well aware that we have a natural bias towards the negative. I had about an 80% chance of survival for five years without any treatment. But that meant a 20% chance of death. I could reduce the 20% to 10% with treatment but I could potentially have life threatening side effects. The medical system seemed more interested in my survivorship in five years rather than my long term quality of life.
At this stage, my cancer treatment could have followed this traditional, medical path. But something deep inside me knew that experiencing my partner's death and now facing my own death had to transform me.

Broadening the perspective of resilience
Two days after my diagnosis, I was at a book launch with a running friend at my local café in Albert Park. I thought the book, Kundalini Running by Doug Wilson, would be mostly about running. As we all sat cross-legged on the wooden floor, I felt tender and sore from the
biopsies and somewhat disconnected from everything around me. It wasn't until Asher Packman, who wrote the foreword to the book, spoke about his experience with suicide and cancer that something shifted in me. I remember telling myself to just breathe. It was like looking into a mirror and seeing my own pain reflected back at me. It took all my strength not to cry in that moment. I instantly knew that I could learn something from his experience. It was the catalyst for my holistic path.
When I connected with Asher, one of the first things we talked about was broadening my perspective of resilience. I already had good mental and physical resilience, but had to learn about the importance of emotional and spiritual resilience.

What about treatment?
In those first few weeks, I struggled to see how the recommended medical interventions would support my mental, physical, emotional and spiritual wellbeing.
It wasn't until a nurse heard me say that I didn't think I'd go ahead with chemotherapy and radiation, that I was given Tanya Wells details at Melbourne Integrative Oncology Group. Tanya was the first practitioner to treat me as an individual. She spent more time with me than the oncologists were able to, explaining my diagnosis in plain language. She also provided a written report which I found incredibly useful to be able to read over after my appointment and discuss with family and friends. She was also the first practitioner to discuss an integrative oncology plan that would help to reduce some of the short and long term side effects of chemotherapy and radiation and therefore aid my healing.
In my view, Tanya bridged the gap between the nurses who cared deeply about my personal experience and the specialists who spoke in technical terms and focused on statistics and survivorship. She was able to provide an integrative plan that supported me to undertake chemotherapy and radiation to kill the cancer cells, but at the same time use evidence based complementary practices to support my good cells to recover and help me to heal physically, mentally, emotionally and spiritually.

What did this look like?
These are some of the things that helped me in my integrative plan:
A food plan that reduced inflammation and aided recovery with immediate results during chemotherapy in reducing fatigue
Supplements to reduce the short and long term side effects of medical treatment
Exercise to support my mental and emotional wellbeing
Research into the best creams to minimise burns from radiation (Strata XRT compared to the hospital provided petroleum-based Sorbolene)
Support and advice for my friends and family about what to do and not to do
Discussion about what to expect after treatment in terms of my wellbeing
More importantly, Tanya was a trusted source of evidence-based research that helped me to be able to advocate for myself within the medical system. When faced with life and death decisions in a matter of weeks, it is not possible to know and understand everything you need in order to make an informed decision. Tanya helped me to sort through the information and ask informed questions. I felt empowered by the knowledge I was given by the Melbourne Integrative Oncology Group.
"I felt empowered by the knowledge I was given"
A holistic approach to health
In addition to the integrative plan that Tanya provided, I also tried many complementary practices which I truly believe helped me to build mental, physical, emotional and spiritual wellbeing at a time when I was facing my own death head on. Meditation, kundalini yoga, breathwork, Wim Hof, cold showers, massage, Neurolink and Kinesiology were all part of my holistic plan. All of these things helped to put chemotherapy and radiation into perspective, as just two parts of a broader plan.

Finding joy
Probably the most important element of my integrative oncology plan was joy. A nurse gave me advice early on in my treatment to find time for joy amidst the trauma that is cancer. By setting aside time for things that brought me joy, I was able to live more fully at a time when it would have been easy to withdraw and become consumed by medical treatment. Joy is now an integral part of how I live my life, knowing that death is a certainty for all of us and we don't get to choose when that will happen.
Cancer isn't just a medical issue, it brings into stark reality the certainty of your own death. Over time, cancer helped me to live more consciously and fully. I feel blessed for every moment that I get to live.
Share this story