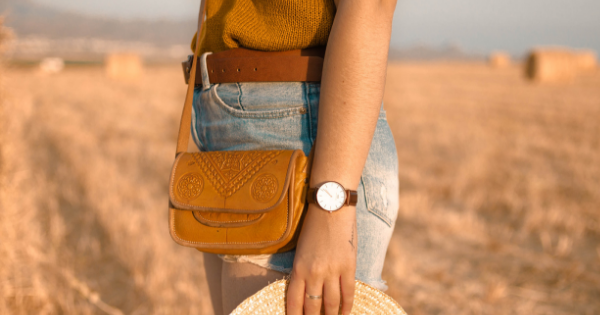 Mama's Got a New Bag
29 August 2019
It may not be Luis Vuitton or Prada....but mama's got a new (ileostomy) bag.
Tales and experiences with a colostomy from one of our wonderful patients.
Hi there, welcome to the club!
If your experience was anything like mine, you were so beautifully cared for by the stoma nurses in hospital following your surgery. It felt like a safe little cocoon, and entering out into the world with your Colostomy bag (c-bag) on board felt a bit like leaving home.
What I'd like to point out first up, is that having a stoma can be very easy to manage day to day!
Getting down to the nitty gritty:
Changing bags
Toilet paper works just fine. If I'm in a toilet with sink/taps, just moistening the toilet paper in the water is great for wiping the stoma. It may take a few goes, but always works.
When out and about:
Nappy bags (and there are ones available that are biodegradable) are great for carrying around with a c-bag stash.
I don't use the black carry cases they gave out in hospital- just a small airline toiletry bag is a perfect size, and much more compact and light.
If I'm in a public toilet cubicle with no sink this is what I do: before taking off my c-bag to change it, I get out some moisturizer from my bag and squeeze some onto the back of my hand. Then I hang a nappy bag on the hook on the back of the door and pop peeled c-bag on top of my own carry bag/handbag, sticky side up. Toilet paper with a bit of moisturizer does a great job of on-the-hop stoma maintenance- making sure that it's wiped clear of cream so the c-bag can stick properly afterwards.
C-bag products:
I personally am a fan of the Hollister c-bag. It's made of stuff called dermaflex, which basically means that it doesn't rustle under your clothes.
At first I used a Coloplast bag- which probably breathes better, ie if there's any gas it releases through a tiny charcoal window so the bag doesn't blow up. I found the Coloplast was rustly though, and a bit larger too, so I would be aware of the top of it sticking out under my clothes more.
What I've found is that the pros outweighed the cons with the Hollister. If I find the bag expands with any gas, I pop to the bathroom and peel the edge back a little so the gas can get out, then usually the bag can be sealed back down again. This works particularly when the stoma hasn't been too active and it's just flatulence. (NB this can be quite smelly, just sayin, so make sure there's a fan on!)
Gosh, really getting to the nitty gritty here.
Speaking of flatulence...
here are some foods that increase its likelihood - for me. I'm not sure if this is universal:
pulses - chick peas and lentils
cauliflower/broccoli
beans ie kidney beans etc.
eggplant
These are the main culprits, but I do still enjoy them in smaller amounts from time to time.
Have to say, I really do notice a difference too to how my stoma functions when I stay off dairy, wheat, coffee and alcohol. Ie, it is less gassy and more regular. Sad I know- but also with the added bonus that I actually feel so much better in myself when I stick to this!
At times the stoma can bleed a little.
This is normal, yet at times can be slightly tender. I do find that this is more likely to happen when I've eaten or drunk more inflammatory food/drink - ie coffee, wine, white bread. This may not be the same for everyone, but it's interesting to keep a bit of a mental note of what you're eating and drinking, so you can adjust things as needed. Kombucha, sauerkraut, kefir, and one of the products that Tanya stocks, Intestamine, have all been helpful when things have felt a bit inflamed or tender.
Drinking lots of water always helps too. Just in general!
When to head to the bathroom pronto:
So sometimes there's a feeling when the stoma is active that it pulls slightly, or feels like the sticky part of the c-bag is stretching in an odd way, or that there is a raised bump around the stoma just after its activity.
This is usually caused by some, well, poo, making its way out from the stoma and pushing its way under the adhesive part of the bag. What's happened here is that for some reason a kind of vacuum has been caused where the poo doesn't drain properly into the bag and yet is needing still to get out- it can continue to balloon out under the adhesive circle without you realizing it and suddenly present as a rather odorous leak.
It took me a while to recognize that sensation; at first I thought it was just the stoma being especially active. What I've learnt though, is that it's a good idea to change bags as soon as possible here, particularly if I feel this pulling sensation or bump- however small- under the adhesive part of the bag.
Worst case scenario- a fairly comic poo pancake appearing out the side of the bag. It will probably happen at some point, but with time it gets easier to recognize what's going on and head off at the pass!
What to wear:
Cannot speak highly enough for high waisted jeans. High waisted anything really.
In terms of underwear, I don't personally recommend spending too much time on any ostomy related websites. I found them to be a bit depressing, very unsexy, and made me feel too different or medically altered.
For the first couple of years I found it really comfortable to wear high waisted undies by the brand Ambra.
I call them my Beyoncé knickers.
They are high waisted, quite firm, and really gave me the feeling of confidence as I knew that my c-bag was covered and held in a supportive bit of black Lycra that felt nice to wear!
I don't seem to wear them as much now- I mainly wear normal undies, but the jeans I live in are high waisted and give me the same feeling of support and confidence, and holding everything in place.
Totally recommend buying some gorgeous underwear too- in the cami/slip/teddy territory. These are fab for helping feel confident in your body when things are still pretty new and different, and when you might be feeling a bit vulnerable or self-conscious. Go have a splurge! You so deserve it.
Activities and fun:
Most importantly, I'd love to let you know all the things I do/have done/enjoy/have enjoyed since my op: swimming, yoga, 7 day silent meditation retreats, Zumba, overseas travel, beach holidays, running, dancing, bike riding, hiking. Having a c bag in these instances has perhaps required some thought and planning, (ie with travel, in terms of ordering ahead to make sure I have enough supplies) - but in no way has detracted from my whole hearted enjoyment! #nocolonstillrollin
Hope this is helpful. If I think of more things I'll add them on!
Best of luck- and congrats for having made it through such a big life event!
Samantha xxx
** name has been amended for privacy purposes
Share this story